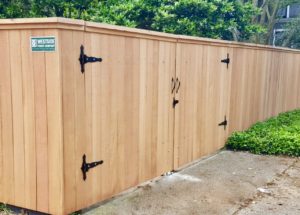 Westside Fence stocks a full line Western Red Cedar fence boards and 2×4's and pressure-treated pine 2×4's.  We carry galvanized steel fence posts (.065, .080 & Schedule 40), have a large selection of in-stock, non-sag gate frames and offer custom gate fabrication services.  Our experienced staff and competitive prices can help make your project your project simple and feasible.
Questions to ask when choosing materials for wood fencing:
Western Red Cedar's straight, tight grain makes it optimal for fence material.  Its natural oils make the wood resistant to decay, rot and insect attack, thus increasing its durability.  It is dimensionally stable with minimal shrinkage, weathers to a silver gray color and will resist elements without additional treatments.  Cedar wood fences stand the test of time and look great decades after installation.
Beware of incense cedar or Chinese cedar.  Unlike Western Red Cedar, these materials mold in high humidity and have increased shrinkage, warping & bowing.
Wood is graded for clearness and amount of defects after it is manufactured. Clear cedar comes from the heart of the tree and has no knots and few blemishes. Cedar that is graded #1 has small and few knots. It's a high quality wood with a high level of finish.  #2 grade cedar allows well spaced, tight knots that are generally small.  No matter what grade of cedar you choose, you should expect to see minor imperfections and blemishes which will not affect the quality of the fence.  However, it is important to know what grade you are paying for as the costs vary per grade.
Often lumber sizes are referred to in nominal measurements rather than actual sizes.  It's important to know the actual size of picket and not just the nominal measurement. 
Our popular post on fence post failure discusses the importance of understanding the different gauges available for metal fence posts.
Materials and Method of Gate Frame Assembly?
If not fabricated properly, gate frames will sag over time.  The materials, bracing, and joining method all contribute to the structural stability and longevity of the gate.  A rigid, welded-metal gate frame is the best solution for a non-sag gate.
---
Wood Fence Materials at Westside Fence
Western Red Cedar Fence Boards:
Heights  |  4', 5', 6′, 7′, & 8'

Widths  |  4" & 6"

Grades  |  6 ft. fencing:  Clear grade, #1 grade or better  |  All other heights: #2 grade or better


Styles  |  Dog ear,  Gothic,  French Gothic,  Virginia Picket

Western Red Cedar Cap & Trim
Japanese Cedar Fence Boards
3/4″ thick, 6 ft. high, 6″ wide
Fence Posts and Gate Frames for Wood Fences:
Fence Hardware:
Bostitch & Duo-fast Gun Nails, Galvanized Nails & Carriage Bolts, &  Lite or Heavy Duty 2' x 4" connectors.

Full Line of Gate Hardware